Thank you to all who participated in this 40 Days For Life campaign.  Collectively we have added almost 500 additional hours of prayer during this campaign.  Over the past 10 campaigns we have been on Wisteria Drive in Germantown praying for over 6,000 hours.  And God continues to answer our prayers!  During this campaign there were 11 babies that were spared from being aborted.



"SAVED" - a Film That **WILL** Save Lives
30 minute broadcast quality film is being made by Two Crown Productions to tell the gripping story of Germantown over the past 4 years. Entitled "SAVED", the documentary is about the late-term abortions occurring in Germantown and the fruit of the community's faithful response. Your help is needed to make this film a reality so it can be shared free of charge far and wide.  Can you support this effort with any amount possible?
God Intervenes in the Life of an Unborn Child in Germantown!
Recently a woman, "Janice", arrived for a late-term abortion and spoke with a side-walk counselor before going into Carhart's clinic. After being in his clinic she came out and talked again with a side-walk counselor  who directed her to Germantown Pregnancy Choices (GPC).
Once inside GPC, Janice was able to share what brought her to Germantown from two states away.  She was 26 weeks pregnant with her third child, had a full time job, and the baby's father was not in the picture.  Nobody knew she was coming to abort. So when she received two phone calls that morning, they were a surprise and Janice knew that it was God's direct intervention in her life and the life of her unborn child.
One call was from a friend to say that she had a dream about Janice, and that she should not do what she was planning on doing. Then another call came this time from Janice's Aunt saying she too had a dream and told her not to do what she was planning and if she did, she would die. Janice received the same message from both of these women: "Don't do it".  But neither her friend nor her Aunt knew that she was going in for an abortion that day. 
Janice was given information for a pregnancy center close to her Aunt's home so she can go in and get more information before she left for her home. Which she did. Janice is back home, keeping the baby and very happy.
God put all the pieces together: two women having dreams, women who decided to act on those dreams, a woman who was open to listening to others, and a family willing to help a relative through this pregnancy. 

>>THANK YOU LORD FOR JANICE & THE GIFT OF HER CHILD!!<<
FROM THE FRONT LINES WITH 40 DAYS FOR LIFE:
"One day this week during my hour on Wisteria Drive in Germantown MD for the 40 Days for Life vigil, a high school student stopped to tell me that what we do is good work and that makes it a difference.  Since he had seen us out there, he knew to refer his sister to us when she was considering an abortion. He was leaving school early that day because his sister had gone into labor with her son, Gabriel Isaiah! Praise God that our consistent pro-life presence out there impressed a young man and rescued an unborn child! What a great encouragement to all of us who come to Wisteria to pray and witness for life!"
Here is ANOTHER STORY from a 40 Days For Life church coordinator about their experience recently on Wisteria Drive while praying with members of a youth group.  Yet another powerful example of how God is using your presence on the sidewalk to save lives.

"Praise God! The prayers of those young people blew me away! And then a lovely lady stopped by and gave the Youth group a set of T-shirts with the sonogram of an unborn child and told the youth group they were angels for being on the sidewalk. And she told them that a sign-carrying angel had caused her to reflect on her decision to have an abortion, and had caused her to CHANGE HER MIND. She now has a lovely three year old child. It was a very powerful message for me and the group to hear." 
Not only did their presence on the sidewalk 3 years ago save a life, the mother is now involved in pro-life work and is being a voice for the unborn. 
Say HELLO to 'Javier Jesus', BORN Wednesday August 20th, 2014.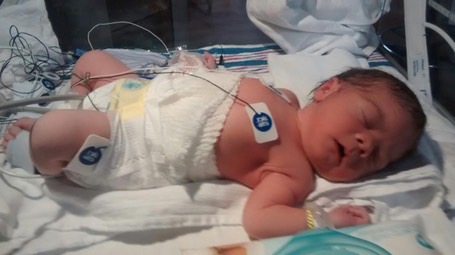 After receiving a poor pre-natal diagnosis that would have lead to an almost certain death shortly after his birth, this little boy's parents came to Carhart in Germantown at 28 weeks pregnant.  After talking with the side-walk counselors the parents went to a specialist who also brought to them the same diagnosis.  Courageously choosing to bring their son into the world instead of aborting him, his parents were expecting the worst. But God had other plans. Javier Jesus only needed minor abdominal surgery and he will be fine and healthy. No explanation except for God's direct intervention. Your prayers are being heard! The Mom is doing fine and both parents are extremely grateful.
JULY 2nd 2014, 11:59am; FOURTH (!!) WOMAN TAKEN TO HOSPITAL FROM CARHART'S GERMANTOWN CLINIC
Wednesday July 2nd, at 11:59AM the FOURTH Carhart patient in the past 17 MONTHS is taken to the hospital by ambulance from his clinic in Germantown, Maryland.   

Minutes later a SECOND ambulance arrives with a Paramedic rushing inside the first ambulance.  

3rd Woman in 13 Months Taken from Germantown Clinic to Local Hospital by Ambulance
Germantown, MD (Operation Rescue) – After little sleep and a heavy patient load, LeRoy Carhart sent another abortion patient to the hospital on March 4, 2014 for treatment of apparently life-threatening complications.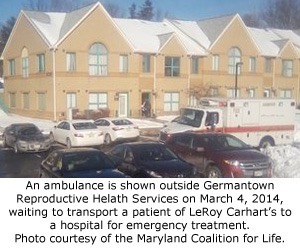 An ambulance arrived at about 4:00 p.m. in response for a call for emergency assistance. It transported a female patient to a local hospital. Carhart was not seen with his patient during the incident.
Due to a snowstorm, Carhart was unable to see women scheduled for multi-day late-term abortions as usual on Sunday. Carhart was seen by witnesses at the Germantown Reproductive Health Services abortion clinic between 5:00 and 11:00 p.m. on Monday then was back at the clinic 9:45 a.m. Tuesday morning where at least 16 abortion patients were seen.
March 4, 2014 − 3rd Carhart patient taken by ambulance to hospital
November 26, 2013 − 2nd Carhart patient taken by ambulance to hospital
July 9, 2013 − 1st Carhart patient taken by ambulance to hospital
February 7, 2013 - Jennifer Morbelli dies at local hospital after 33-week Carhart abortion
"It appears that Carhart was once again conducting surgeries on women in a fatigued state, as he is known to do. He brags of never taking a day off. At the age of 72, we believe he is endangering women with his irresponsible behavior, and this latest medical emergency in Germantown is more evidence of that," said Troy Newman, President of Operation Rescue.
As far back as 1993, Carhart was ordered by the Nebraska Attorney General to stop "interrupting or delaying a surgical procedure including abortion due to or as a result of his exhaustion or fatigue."
Medical emergencies at Carhart's abortion facilities in Maryland and in Bellevue, Nebraska, have become more frequent in recent months, leading to concerns that he is unfit to continue practicing medicine.
Operation Rescue is in the process of filing a complaint with the Maryland Board of Physicians demanding an emergency suspension of Carhart's medical license pending a full investigation into the recent rash of abortion injuries.
SOURCE: Operation Rescue
YES your presence in Germantown DOES makes a difference...Consider this!!
"While praying on Wisteria Drive during the 40 Days for Life Campaign, all of a sudden a young woman stood in front of us and simply said, "I just stopped by to say thank you for all you're doing." I hadn't seen her, but she had been driving by and pulled into the parking lot. (By the way, it was pouring!).
We then heard her story: She is a single mom with 4 children, and is 5 months pregnant with her 5th child. This past January, 2014 she had an appointment at Carhart's for an abortion on a Monday morning. The Friday (or Saturday) night before, she had driven by on Wisteria and she saw about 10 - 15 people holding signs and praying. At that point, she decided she could not go through with the abortion and cancelled her appointment.
This was a powerful testimony to me that the Lord is using our presence to save lives even if we never talk directly to anyone. Only God knows how many others have changed their minds just because we are here in Germantown."