On February 3rd 2016, LeRoy Carhart spoke at the Johns Hopkins University School of Medicine in Baltimore, MD to a room of prospective future abortionists.  A person in attendance observed; "Everyone was truly in awe of him." Listen to him here (audio link 26MB), read about the event at, "What would a late-term abortionist say to med students?" 
>>SIXTH<< WOMAN TAKEN TO THE HOSPITAL BY AMBULANCE
7:46PM JANUARY 19, 2016.  FOR THE SIXTH TIME SINCE 2013 LERORY CARHART SENDS WOMAN TO THE HOSPITAL BY AMBULANCE FROM HIS GERMANTOWN CLINIC!!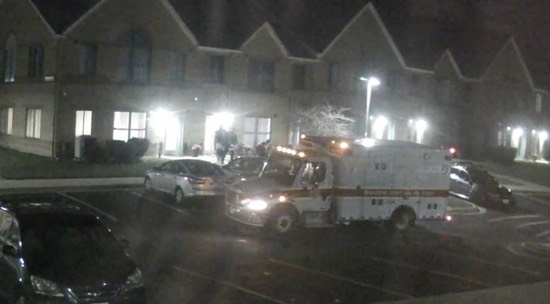 Carhart Hospitalizes Sixth Abortion Patient in Germantown, Maryland
January 22, 2016 By Operation Rescue
by Cheryl Sullenger
Germantown, MD – An ambulance transported a female patient of late-term abortionist LeRoy Carhart to a Germantown hospital on the evening of January 19, 2016, about a month after another similar incident that also resulted in emergency hospitalization of another of his patients.
Security camera footage obtained by Operation Rescue shows an ambulance arriving at Germantown Reproductive Health Services in Germantown, Maryland at approximately 7:46 p.m. according to the video time-stamp. Seven minutes later, emergency responders are seen leaving the late-term abortion facility with the injured women on a gurney. 
Carhart and his wife, Mary Lou, are also seen exiting the abortion facility and leaving the parking lot immediately after the ambulance.
Carhart has not held hospital privileges anywhere, including Maryland, since 1982.
Carhart conducts abortions throughout all nine months of pregnancy at Germantown Reproductive Health Services where he has worked for the past five years. Carhart also operates his own abortion facility in Bellevue, Nebraska, where state law limits abortions to under 20 weeks.
A witness on the scene has told Operation Rescue that on January 19, Carhart saw 21 patients. Seven of those were risky late-term abortion deliveries. 
The patient that was transported was said to have been the first patient to arrive for the day and the last to leave eleven hours later – long after everyone else had been released.
This is the sixth medical emergency that has resulted in the hospitalization of a Carhart abortion patient since he began working in Maryland five years ago. One of those incidents resulted in the death of Jennifer Morbelli, who succumbed on Feburary 7, 2012, to complications of a 33-week abortion. Even though Carhart was unable to be contacted as Morbelli's condition worsened, which fatally delayed emergency Carhart was never held accountable.
Carhart was also involved in the death of another late-term abortion patient, Christin Gilbert, a 19-year old Down syndrome teen who died from complications to a botched third trimester abortion on January 13, 2005.
"When Carhart moved his late-term abortion business to Germantown, we predicted he would kill again, and that prediction came true. Now he has hospitalized two women within a month of each other and we do not know if either woman is alive or dead," said Operation Rescue President Troy Newman. "Carhart is a dangerous abortionist that has maimed and killed enough. We urgently call on the Maryland Board of Physicians to step in and stop Carhart from practicing in Maryland before he kills again."
Earlier this week, Operation Rescue named Carhart's Germantown Reproductive Health Services as one of the six most dangerous abortion business in the U.S.
Very Young Carhart Patient Seen Clinging to Her Stuffed Animal After Late-Term Abortion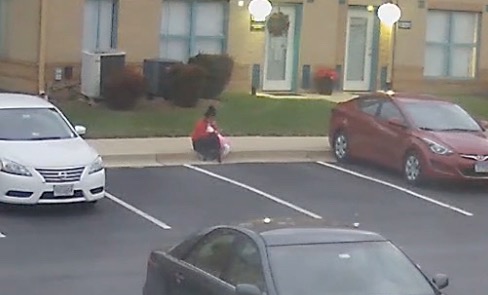 Very young in appearance, a late-term abortion patient of LeRoy Carhart's is seen sitting on the curb clinging to her stuffed animal outside his abortion clinic in Germantown, MD.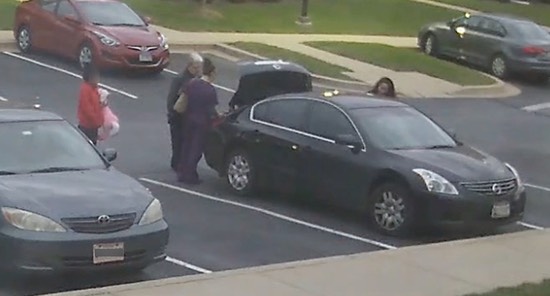 Later, Carhart and staff exit the clinic and offer the young girl a ride.  During the entire time she was outside the clinic, the stuffed pink toy never left the young girl's side.  More about this incident can been seen at Gloria.TV
>>FIFTH<< CARHART PATIENT TAKEN AWAY BY AMBULANCE
On Tuesday December 15th 2015 for the FIFTH TIME SINCE 2013 an ambulance was called to Germantown Reproductive Health Services to take Carhart's patient to a local hospital. In the pictures below, Carhart can be seen in his white lab coat escorting the patient out to the ambulance, and then climbing into the back before leaving the office park.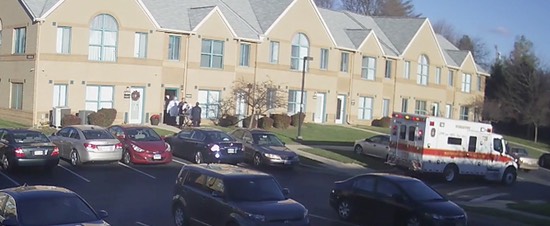 CHRONOLOGY OF CARHART's GERMANTOWN PATIENTS TAKEN TO HOSPITAL BY AMBULANCE

December 15, 2015 - FIFTH Carhart patient since 2013 leaves his clinic by ambulance

July 2, 2014 - FOURTH Carhart patient in 17 MONTHS taken away by ambulance

March 4, 2014 − THIRD Carhart patient taken by ambulance to hospital

November 26, 2013 − SECOND Carhart patient taken by ambulance to hospital

July 9, 2013 − FIRST Carhart patient taken by ambulance to hospital

February 7, 2013 - Jennifer Morbelli taken to local hospital by family members after not being able to contact Carhart and sadly DIES on the 5th day after the start of a 33-week Carhart abortion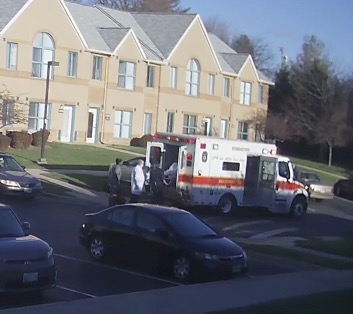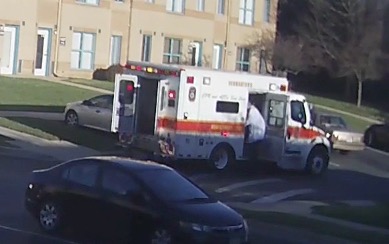 >>MORE on this story from Operation Rescue, including full video of the event.
Marking 5 Years Of LeRoy Carhart in Germantown, Local Churches Hold Candle Light Procession and Vigil
LeRoy Carhart (now 74 years old) came to Germantown Maryland in December 2010.  Since then more than 3,800 children have died here.  The faithful who protest prayerfully and peacefully each week marked the solemn occasion on December 6, 2015 with a candle light procession to Germantown Reproductive Health Services.  Outside the clinic the group of 100 people paused to ask God Almighty to end the scourge of late-term abortion in Germantown.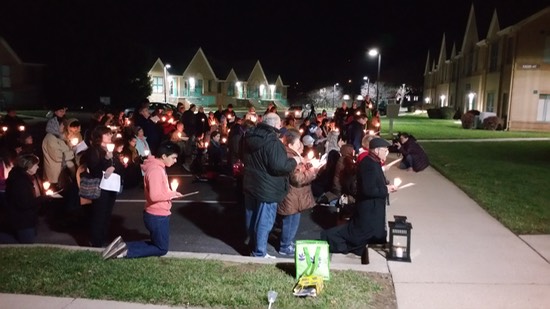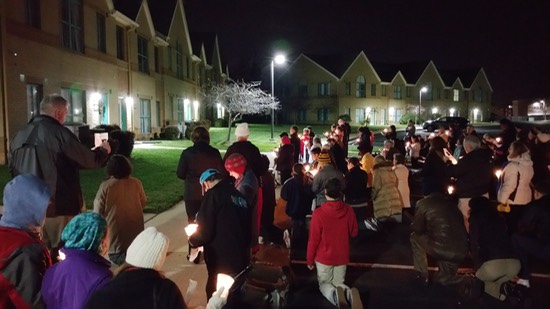 Clinic Workers Send Lurid Christmas Card, While Carhart Doubles Up Over Colorado Springs Shooting
The pro-life center located directly across from Carhart's clinic, Germantown Pregnancy Choices, was recently mailed a "Christmas Card" from the workers at Carhart's clinic, Germantown Reproductive Health Services.  Not only is the imagery on the front of the card luridly tasteless (therefore not shown), the card also contained an audio CD of Christian Christmas songs such as Away in a Manger and O Holy Night. The inclusion of sacred Christmas music under the banner of "Happy Holidays From Germantown Reproductive Health Services" (shown below) is an absolute travesty. See more about this story from LifeSiteNews.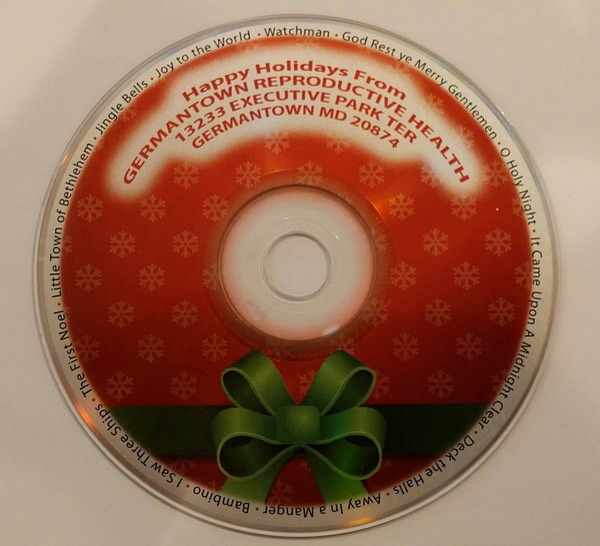 On November 30th, the Sunday after the tragic Colorado Springs  shooting at a Planned Parenthood clinic, Carhart hired a second uniformed off duty Montgomery County Police officer at his clinic in Germantown.  A uniformed officer has been present on Sundays, Mondays, Tuesdays and Wednesdays since February, 2012.  It is unclear how long the second officer will be there.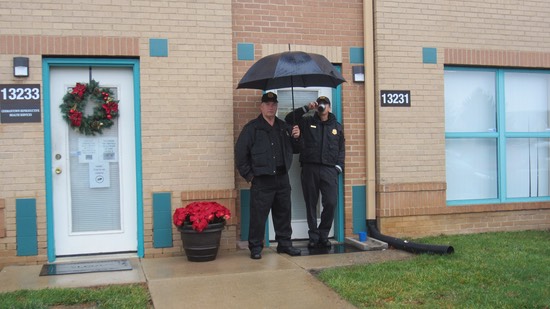 "SAVED" - a Film That **WILL** Save Lives
30 minute broadcast quality film is being made by Two Crown Productions to tell the gripping story of Germantown over the past 4 years. Entitled "SAVED", the documentary is about the late-term abortions occurring in Germantown and the fruit of the community's faithful response. Your help is needed to make this film a reality so it can be shared free of charge far and wide.  Can you support this effort with any amount possible?
God Intervenes in the Life of an Unborn Child in Germantown!
Recently a woman, "Janice", arrived for a late-term abortion and spoke with a side-walk counselor before going into Carhart's clinic. After being in his clinic she came out and talked again with a side-walk counselor  who directed her to Germantown Pregnancy Choices (GPC).
Once inside GPC, Janice was able to share what brought her to Germantown from two states away.  She was 26 weeks pregnant with her third child, had a full time job, and the baby's father was not in the picture.  Nobody knew she was coming to abort. So when she received two phone calls that morning, they were a surprise and Janice knew that it was God's direct intervention in her life and the life of her unborn child.
One call was from a friend to say that she had a dream about Janice, and that she should not do what she was planning on doing. Then another call came this time from Janice's Aunt saying she too had a dream and told her not to do what she was planning and if she did, she would die. Janice received the same message from both of these women: "Don't do it".  But neither her friend nor her Aunt knew that she was going in for an abortion that day. 
Janice was given information for a pregnancy center close to her Aunt's home so she can go in and get more information before she left for her home. Which she did. Janice is back home, keeping the baby and very happy.
God put all the pieces together: two women having dreams, women who decided to act on those dreams, a woman who was open to listening to others, and a family willing to help a relative through this pregnancy. 

>>THANK YOU LORD FOR JANICE & THE GIFT OF HER CHILD!!<<
FROM THE FRONT LINES WITH 40 DAYS FOR LIFE:
"One day this week during my hour on Wisteria Drive in Germantown MD for the 40 Days for Life vigil, a high school student stopped to tell me that what we do is good work and that makes it a difference.  Since he had seen us out there, he knew to refer his sister to us when she was considering an abortion. He was leaving school early that day because his sister had gone into labor with her son, Gabriel Isaiah! Praise God that our consistent pro-life presence out there impressed a young man and rescued an unborn child! What a great encouragement to all of us who come to Wisteria to pray and witness for life!"
Here is ANOTHER STORY from a 40 Days For Life church coordinator about their experience recently on Wisteria Drive while praying with members of a youth group.  Yet another powerful example of how God is using your presence on the sidewalk to save lives.

"Praise God! The prayers of those young people blew me away! And then a lovely lady stopped by and gave the Youth group a set of T-shirts with the sonogram of an unborn child and told the youth group they were angels for being on the sidewalk. And she told them that a sign-carrying angel had caused her to reflect on her decision to have an abortion, and had caused her to CHANGE HER MIND. She now has a lovely three year old child. It was a very powerful message for me and the group to hear." 
Not only did their presence on the sidewalk 3 years ago save a life, the mother is now involved in pro-life work and is being a voice for the unborn. 
Say HELLO to 'Javier Jesus', BORN Wednesday August 20th, 2014.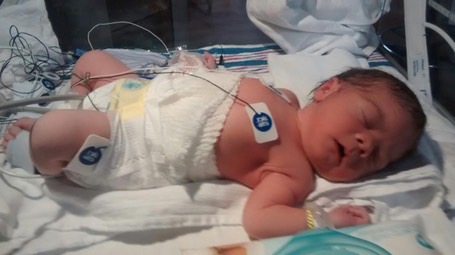 After receiving a poor pre-natal diagnosis that would have lead to an almost certain death shortly after his birth, this little boy's parents came to Carhart in Germantown at 28 weeks pregnant.  After talking with the side-walk counselors the parents went to a specialist who also brought to them the same diagnosis.  Courageously choosing to bring their son into the world instead of aborting him, his parents were expecting the worst. But God had other plans. Javier Jesus only needed minor abdominal surgery and he will be fine and healthy. No explanation except for God's direct intervention. Your prayers are being heard! The Mom is doing fine and both parents are extremely grateful.
JULY 2nd 2014, 11:59am; FOURTH (!!) WOMAN TAKEN TO HOSPITAL FROM CARHART'S GERMANTOWN CLINIC
Wednesday July 2nd, at 11:59AM the FOURTH Carhart patient in the past 17 MONTHS is taken to the hospital by ambulance from his clinic in Germantown, Maryland.   

Minutes later a SECOND ambulance arrives with a Paramedic rushing inside the first ambulance.  

3rd Woman in 13 Months Taken from Germantown Clinic to Local Hospital by Ambulance
Germantown, MD (Operation Rescue) – After little sleep and a heavy patient load, LeRoy Carhart sent another abortion patient to the hospital on March 4, 2014 for treatment of apparently life-threatening complications.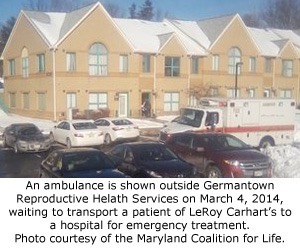 An ambulance arrived at about 4:00 p.m. in response for a call for emergency assistance. It transported a female patient to a local hospital. Carhart was not seen with his patient during the incident.
Due to a snowstorm, Carhart was unable to see women scheduled for multi-day late-term abortions as usual on Sunday. Carhart was seen by witnesses at the Germantown Reproductive Health Services abortion clinic between 5:00 and 11:00 p.m. on Monday then was back at the clinic 9:45 a.m. Tuesday morning where at least 16 abortion patients were seen.
March 4, 2014 − 3rd Carhart patient taken by ambulance to hospital
November 26, 2013 − 2nd Carhart patient taken by ambulance to hospital
July 9, 2013 − 1st Carhart patient taken by ambulance to hospital
February 7, 2013 - Jennifer Morbelli dies at local hospital after 33-week Carhart abortion
"It appears that Carhart was once again conducting surgeries on women in a fatigued state, as he is known to do. He brags of never taking a day off. At the age of 72, we believe he is endangering women with his irresponsible behavior, and this latest medical emergency in Germantown is more evidence of that," said Troy Newman, President of Operation Rescue.
As far back as 1993, Carhart was ordered by the Nebraska Attorney General to stop "interrupting or delaying a surgical procedure including abortion due to or as a result of his exhaustion or fatigue."
Medical emergencies at Carhart's abortion facilities in Maryland and in Bellevue, Nebraska, have become more frequent in recent months, leading to concerns that he is unfit to continue practicing medicine.
Operation Rescue is in the process of filing a complaint with the Maryland Board of Physicians demanding an emergency suspension of Carhart's medical license pending a full investigation into the recent rash of abortion injuries.
SOURCE: Operation Rescue
YES your presence in Germantown DOES makes a difference...Consider this!!
"While praying on Wisteria Drive during the 40 Days for Life Campaign, all of a sudden a young woman stood in front of us and simply said, "I just stopped by to say thank you for all you're doing." I hadn't seen her, but she had been driving by and pulled into the parking lot. (By the way, it was pouring!).
We then heard her story: She is a single mom with 4 children, and is 5 months pregnant with her 5th child. This past January, 2014 she had an appointment at Carhart's for an abortion on a Monday morning. The Friday (or Saturday) night before, she had driven by on Wisteria and she saw about 10 - 15 people holding signs and praying. At that point, she decided she could not go through with the abortion and cancelled her appointment.
This was a powerful testimony to me that the Lord is using our presence to save lives even if we never talk directly to anyone. Only God knows how many others have changed their minds just because we are here in Germantown."