Lori says:
As the mother of the young girl taken by the ambulance in this article, I would like to say that there are MANY things that the public is just not aware of. These women whom, for whatever reason, feel that they have no other options in life ,but to terminate their pregnancies, are sometimes made out to be bigger monsters than Carhart himself. That is just not true. These women are lied too, they are told not to trust or listen to those who are trying to help. I won't mention names, for I do not have permission to do so at this time, but there was a kind young lady who tried desperately to help my daughter and change her mind that day. My daughter had been so misguided , and made to believe that the people who were trying to help her, were crazy, and just a bunch of "creepsters" (as it was put to her). In a world where it is almost hard to believe that there are actually GOOD people , who are willing to help a total stranger and her unborn child, it's no wonder she didn't accept the help from the kind young lady.These young girls who go in to clinics like Carhart's have no idea what's in store for them. All they know before these horrible procedures is that, they feel depressed, confused, overwhelmed, and dismayed . They are made to feel as if they are in the right place, this is going to take all of that away, and they are going to leave there without worries, and go on with a better life. No one is aware of the extreme emotional distress that comes AFTER these procedures. No one is made aware of the agony , shame, and low self worth this causes some women to feel afterwards. No one thinks about the pain and emotional stress it causes to those related to these girls, and the feeling of helplessness as a parent. These young women are not all monsters, they don't come from bad families with no morals, they aren't baby killers. They are simply, misguided women, in a world where evil is unfortunately more prominent than good. They are totally unaware that there are STILL good people in this world, ready to give of themselves to help these women who feel so helpless. I applaud everyone who dedicates their time to standing out front of these clinics, because I KNOW they are helpful and they have the ability to save lives. Had my daughter not felt that it was too late to still accept help from the kind lady on the sidewalk that day, my daughter would not have suffered the life threatening complications that she did. Although my daughter is out of the hospital after some serious medical complications and surgeries, she has a very LONG road of emotional and spiritual recovery ahead of her. This is truly one of the hardest things I, as a parent have ever had to watch my child go through. I have never felt so helpless as a parent in my whole life. I pray that the world will soon put an end to abortion and the lies and false information about the after affects of it. I also pray for the women who will be next in the same line my daughter was in, that they will seek help of the sidewalk counselors so that they may avoid the same outcome. I ask that anyone reading this, please pray for my daughter , her baby in heaven, and our family. This has been a very trying time for all of us. Thank You
SOURCE: Operation Rescue (Comment #9)

4th Woman in 13 Months Taken from Germantown in Local Hospital Because of Carhart
Germantown, MD – After little sleep and a heavy patient load, LeRoy Carhart sent another abortion patient to the hospital on March 4, 2014 for treatment of apparently life-threatening complications.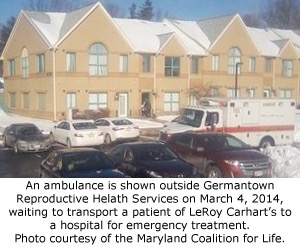 An ambulance arrived at about 4:00 p.m. in response for a call for emergency assistance. It transported a female patient to a local hospital. Carhart was not seen with his patient during the incident.
Due to a snowstorm, Carhart was unable to see women scheduled for multi-day late-term abortions as usual on Sunday. Carhart was seen by witnesses at the Germantown Reproductive Health Services abortion clinic between 5:00 and 11:00 p.m. on Monday then was back at the clinic 9:45 a.m. Tuesday morning where at least 16 abortion patients were seen.
"It appears that Carhart was once again conducting surgeries on women in a fatigued state, as he is known to do. He brags of never taking a day off. At the age of 72, we believe he is endangering women with his irresponsible behavior, and this latest medical emergency in Germantown is more evidence of that," said Troy Newman, President of Operation Rescue.
As far back as 1993, Carhart was ordered by the Nebraska Attorney General to stop "interrupting or delaying a surgical procedure including abortion due to or as a result of his exhaustion or fatigue."
Medical emergencies at Carhart's abortion facilities in Maryland and in Bellevue, Nebraska, have become more frequent in recent months, leading to concerns that he is unfit to continue practicing medicine.
Operation Rescue is in the process of filing a complaint with the Maryland Board of Physicians demanding an emergency suspension of Carhart's medical license pending a full investigation into the recent rash of abortion injuries.