MORE THAN TWO HUNDRED CHILDREN SAVED
NO WHERE IN AMERICA HAVE SO MANY BEEN SAVED IN SUCH A TIME
201 mothers have decided not to abort their children in Germantown, Maryland since December, 2010.  It is from your prayers, your pro-life witness, and your support that this milestone has been reached.
Each week side walk counselors are present to offer hope, care, love and true alternatives to mothers who find themselves in often desperate situations. Please continue to pray for the mothers, pray for the side walk counselors, come and pray at the Monday gatherings and please continue to support this work with a donation if possible.

Say hello to 'Javier Jesus', born Wednesday August 20th.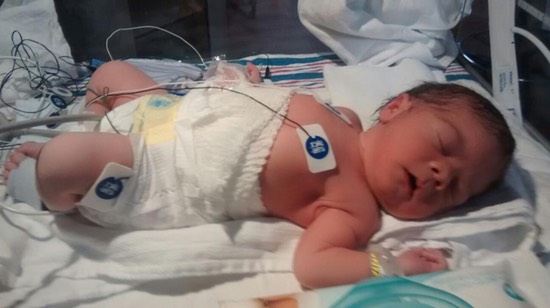 After receiving a poor pre-natal diagnosis that would have lead to an almost certain death shortly after his birth, this little boy's parents came to Carhart in Germantown at 28 weeks pregnant.  After talking with the side-walk counselors the parents went to a specialist who also brought to them the same diagnosis.  Courageously choosing to bring their son into the world instead of aborting him, his parents were expecting the worst. But God had other plans. Javier Jesus only needed minor abdominal surgery and he will be fine and healthy. No explanation except for God's direct intervention. Your prayers are being heard! The Mom is doing fine and both parents are extremely grateful.

JULY 2nd, 11:59am; FOURTH (!!) WOMAN TAKEN TO HOSPITAL FROM CARHART'S GERMANTOWN CLINIC
Wednesday July 2nd, at 11:59AM the FOURTH Carhart patient in the past 17 MONTHS is taken to the hospital by ambulance from his clinic in Germantown, Maryland.   

Minutes later a SECOND ambulance arrives with a Paramedic rushing inside the first ambulance.  


3rd Woman in 13 Months Taken from Germantown Clinic to Local Hospital by Ambulance
Germantown, MD (Operation Rescue) – After little sleep and a heavy patient load, LeRoy Carhart sent another abortion patient to the hospital on March 4, 2014 for treatment of apparently life-threatening complications.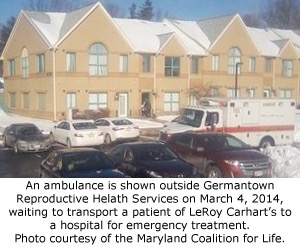 An ambulance arrived at about 4:00 p.m. in response for a call for emergency assistance. It transported a female patient to a local hospital. Carhart was not seen with his patient during the incident.
Due to a snowstorm, Carhart was unable to see women scheduled for multi-day late-term abortions as usual on Sunday. Carhart was seen by witnesses at the Germantown Reproductive Health Services abortion clinic between 5:00 and 11:00 p.m. on Monday then was back at the clinic 9:45 a.m. Tuesday morning where at least 16 abortion patients were seen.
March 4, 2014 − 3rd Carhart patient taken by ambulance to hospital

November 26, 2013 − 2nd Carhart patient taken by ambulance to hospital

July 9, 2013 − 1st Carhart patient taken by ambulance to hospital

February 7, 2013 - Jennifer Morbelli dies at local hospital after 33-week Carhart abortion
"It appears that Carhart was once again conducting surgeries on women in a fatigued state, as he is known to do. He brags of never taking a day off. At the age of 72, we believe he is endangering women with his irresponsible behavior, and this latest medical emergency in Germantown is more evidence of that," said Troy Newman, President of Operation Rescue.
As far back as 1993, Carhart was ordered by the Nebraska Attorney General to stop "interrupting or delaying a surgical procedure including abortion due to or as a result of his exhaustion or fatigue."
Medical emergencies at Carhart's abortion facilities in Maryland and in Bellevue, Nebraska, have become more frequent in recent months, leading to concerns that he is unfit to continue practicing medicine.
Operation Rescue is in the process of filing a complaint with the Maryland Board of Physicians demanding an emergency suspension of Carhart's medical license pending a full investigation into the recent rash of abortion injuries.
SOURCE: Operation Rescue

YES your presence in Germantown DOES makes a difference...Consider this!!
"While praying on Wisteria Drive during the 40 Days for Life Campaign, all of a sudden a young woman stood in front of us and simply said, "I just stopped by to say thank you for all you're doing." I hadn't seen her, but she had been driving by and pulled into the parking lot. (By the way, it was pouring!).
We then heard her story: She is a single mom with 4 children, and is 5 months pregnant with her 5th child. This past January, 2014 she had an appointment at Carhart's for an abortion on a Monday morning. The Friday (or Saturday) night before, she had driven by on Wisteria and she saw about 10 - 15 people holding signs and praying. At that point, she decided she could not go through with the abortion and cancelled her appointment.
This was a powerful testimony to me that the Lord is using our presence to save lives even if we never talk directly to anyone. Only God knows how many others have changed their minds just because we are here in Germantown."